Are you looking for a new source of income? Reselling is a great option—buy products at wholesale prices and then resell them online or in person for a profit. Many online reselling platforms are free and require very little start-up capital, reducing overhead costs and allowing you to work without a space or employees.
With the right one, you can start making money promptly while taking advantage of dropshipping services and other features that will help streamline your business operations. For this reason, the IcebergBuilder team singled out the 10 best reselling platforms to help get you started!
Top 10 Reselling Platforms
eCommerce has become an increasingly popular way to start a business, and many platforms allow you to get started quickly and easily. We listed ten of the best reselling platforms online. Remember that each marketplace has unique features, advantages, and disadvantages, so it is up to you to decide what fits your business model. (Quick tip: You should also consider cross-selling on multiple platforms.) Let's dive in!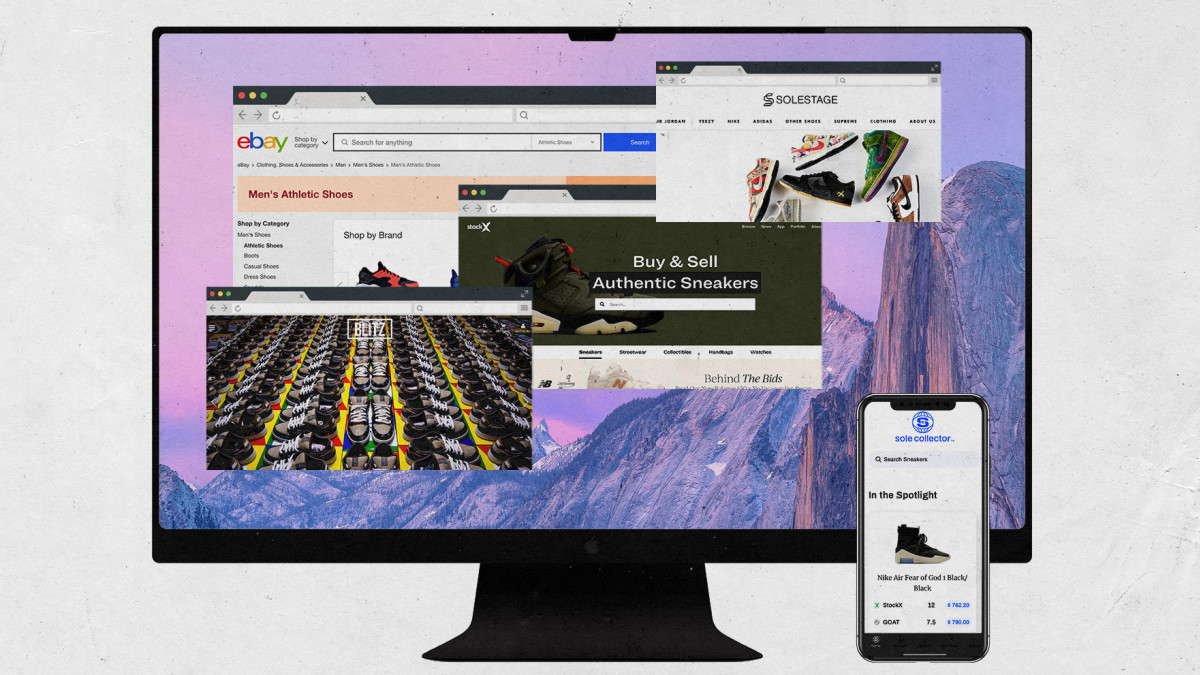 1. eBay – Best for Reselling New & Used Items
eBay is the biggest online marketplace with a secure platform for selling new and used goods. You can list your products for free, accept payments from buyers, and track orders all on one site. 
eBay is also popular for dropshipping—you can easily find and purchase items from wholesalers and resell them at a profit. Its features include free product listing, secure payments from buyers, tracking orders, and dropshipping services to streamline business operations.
2. Amazon – Top International eCommerce Platform
Amazon is the largest and most popular eCommerce platform for selling digital and physical goods. You can hunt profitable products, buy them at wholesale prices, and list and sell them on the marketplace.
Amazon offers a range of services like fulfillment centers and warehousing options to give you location independence. Currently, there are three amazon selling models:
Fulfilled By Amazon – This is a method where Amazon will store and ship the items for you.

Wholesale – Using this model, you can purchase items at wholesale prices from wholesalers, list them on Amazon, and make a profit.

Fulfilled By Merchant – You must list items on Amazon and ship them to the buyer from your home or warehouse.
3. Etsy – Best for Handmade Products & Crafts
Etsy is hands down the best platform for selling handmade products and crafts. It's a creative marketplace for makers, artists, collectors, and vintage enthusiasts.
You can create your online shop conveniently on Etsy to start selling/reselling your products directly to customers worldwide. You will also benefit from its extensive marketing tools that allow you to promote and grow your business efficiently and at lower costs.
4. Craigslist – Best for Local Reselling
Craigslist has been around for many years and is still one of the most popular reselling platforms. With Craigslist, you can list your items locally so that customers can come to pick them up, or you can arrange to meet and make the exchange in person.
Many people use it to buy and sell used items locally, and there are no listing fees. However, be cautious when trading goods here, as there can often be potential scams.
5. Bonanza – Best for Hobbyists
Bonanza is an online marketplace for hobbyists and entrepreneurs who want to sell/resell their products easily. It is a great option for those just starting and who need more support than other online marketplaces offer.
Bonanza offers a safe payment gateway and a user-friendly interface and provides helpful guides, extensive customer service, and powerful promotional tools to help you launch your business successfully.
6. Shopify – Best Way To Start an Online Store
Shopify is a powerful eCommerce platform popular among drop shippers and wholesalers. It provides you with everything you need to start, grow, and sustain your online business.
You can easily create your online Shopify store in minutes and use it to list items for sale, accept payments from customers, and track your orders. The great thing is that you don't need to be a web developer to create a professional-looking online store.
7. Walmart Marketplace – Best for Big Brands
Walmart Marketplace is the best platform for large brands looking to sell/resell their products. Its features are designed to help companies grow and scale their businesses quickly, including secure payments, vendor management tools, and marketing services.
Furthermore, Walmart offers lower fees and a dedicated team of experts available 24/7 to help you with any queries. However, it is important to note that the Marketplace is highly competitive, and success depends on various factors.
8. Rakuten – Best for Selling to Japan & Asia
Rakuten is the largest eCommerce platform in Japan and one of the biggest international online marketplaces. It is a great way to reach Japanese customers and customers from other Asian countries like China, South Korea, and Taiwan.
With Rakuten, you can list products for sale, accept buyer payments, and easily track orders. The platform also provides valuable insights and marketing tools to help you reach a wider audience and boost sales.
9. Poshmark – Best for Selling Secondhand Fashion
Poshmark is super popular for reselling secondhand fashion items. It is a reselling market where people make money by selling their old clothes, shoes, accessories, and other fashion items.
The platform offers a number of features that can make reselling more convenient, including a simple listing process, a built-in shipping system, and a social component that allows users to follow and interact with other sellers and buyers.
10. Instagram – Best for Promoting Your Products
Instagram is the perfect platform for promoting your products and engaging with potential customers. With it, you can showcase your creative side by making catchy posts with your products' images, adding captions that draw attention, and reaching out to influencers to help increase brand awareness.
It is a great way to start generating sales for your business without paying a dime! All you need is an Instagram account, some creative ideas, and the willingness to put in the time and effort to make it work.
Click here to learn about Instagram content marketing and how to promote your business!
Final Thoughts & Tips
In conclusion, reselling platforms have become a popular way for individuals to purchase items at a lower cost and for resellers to make a profit by reselling products they have acquired. These platforms offer excellent opportunities for both buyers and sellers, as they can find good deals and then sell their items for the highest possible price.
Additionally, partnering with leading retailers and developing effective partnerships with major stores is an important factor in improving resale purchases and achieving maximum success.
As the resale market continues to grow, it is increasingly important for sellers to find better ways to source their products and develop a strong seller reputation. Reselling platforms have made it easier than ever to participate in the resale market, providing a huge range of products and making longer, more complex purchasing processes a thing of the past.
Finally, whatever platform you choose, success in reselling comes down to hard work, dedication, and a willingness to go above and beyond with customer service.